Kinesio taping was developed in 1979 in Japan, by licensed chiropractor, moxibustion therapist, and acupuncturist, Dr. Kenzo Kasa.  Kinesio taping is now the most prominent method in therapeutic rehabilitative taping, an important area in the field of rehabilitation and sports medicine.  It is also a well-known complementary therapy.
What Does Kinesio Taping Involve?
Kinesio taping is the taping around and over muscles.  This is done both for prevention of over-contraction of muscles and to provide assistance and support.  It helps patients maintain a full range of motion.  This is essential in allowing the patient to take part in physical activity with the help of functional assistance.  It also helps to prevent muscle overuse.  Additionally, Kinesio taping facilitates better lymph flow consistently throughout the day.
Kinesio Taping as a Complementary Therapy
Kinesio treatments can (and often is) used alongside other treatments.  Common concurrent treatments include electrical stimulation, massage therapy, hydrotherapy, and cryotherapy.  Kinesio taping has also become popular in the effort to activate the body's natural healing process.  This idea came about because the taping helps to stimulate the circulatory and neurological systems.
Kinesio taping provides support to the joints and muscles without creating restriction of circulation or range of motion.  It helps to support muscle movement, relax muscles that are overused, and alleviate inflammation and pain.  Examples of other benefits of Kinesio taping include:
Improves posture and alignment through enhanced kinaesthetic awareness
Relaxes tight muscles
Puts weak muscles in their correct position, assisting its ability to function
Facilitates rehabilitation by helping to put a muscle or joint in its common position
Resolves misalignment of joints
Helps to alleviate lymphatic fluid congestion
Helps to support muscle movement
Alleviates pain
Kinesio tape can be used on many different parts of the body, and can even help with problems such as headache.
What Kind of Tape is Used in Kinesio Taping?
A special kind of tape called Kinesio Tex Tape is used in Kinesio taping therapy.  This tape has a thickness and weight that is purposely similar to human skin.  The tape is made of cotton fibre, is breathable, and is safe for people with skin sensitivity.  It has a special acrylic backing that is activated by heat.  This special tape has been designed to only be able to stretch lengthwise, not across.  It has a visibly wavy pattern on the surface.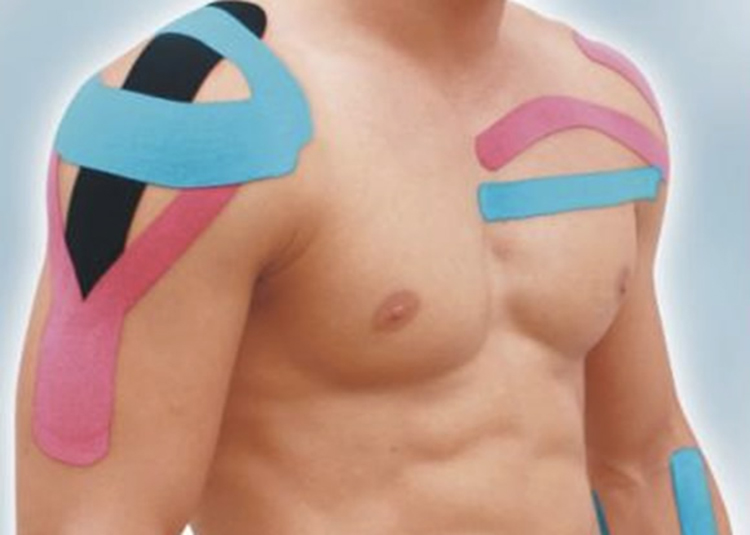 Kinesio Tex Tape can readily be used with various tension techniques and strengths.  One goal of using the tape is to provide assistance to ligaments and muscles in dealing with injury.  It has been shown that the use of the tape after a treatment involving manual manipulation boosts the procedure's effectiveness.
Kinesio Tex Tape is used by physiotherapists, nurses, manual therapists, physicians, chiropractors, certified athletic trainers, occupational therapists, and physical therapists.  Make sure that the professional you choose to administer your taping treatments has proper training in the Kinesio Taping Method.  He or she should have been taught by Certified Kinesio Taping Instructors (CRTI).
Therapeutic Taping and Arthritis
It has been established that therapeutic taping can be useful in alleviating inflammation and pain associated with arthritis.  This is because of taping's effectiveness in promoting healthy joint movement and circulation, as well as re-training of the muscles and posture.
Therapeutic Taping and Lymphoedema
According to Breast Cancer Care (www.breastcancercare.org.uk), a specific application of Kinesio tape can be useful in encouraging the movement of lymph fluid.  This is why the tape is often used in complementary therapy to help treat lymphoedema.